Ormus Minerals Magnesium HEALING Oil with LEMON Essential Oil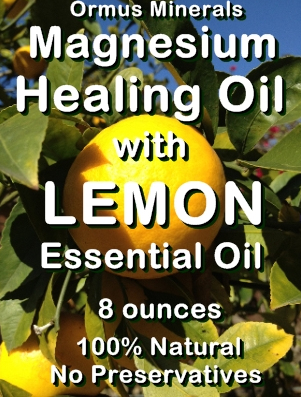 Ormus Minerals Magnesium Oil

What do you know about the very important Mineral Magnesium?

Magnesium is the fourth most abundant mineral in your body, a necessary co-factor for hundreds of enzymes, and the most critical mineral of all for coping with stress.

Well science now learned that the best way to take this important nutrient is trandermal and to top that off we have added the ORMUS Minerals and now you have a full spectrum supplement that you just rub onto your skin and see results in your health.

What minerals are in Pure Magnesium Oil and Ormus Minerals Magnesium Oil?
Neveu also found magnesium chloride effective with:

A french doctor,

A. Neveu

, cured several diphtheria patients with magnesium chloride within two days. He also published 15 cases of poliomyelitis that were cured within days if treatment was started immediately, or within months if paralysis had already progressed

abscesses

hoarseness

pneumonia

asthma

infected wounds

poisoning

boils

influenza

rubella

bronchitis

measles

scarlet fever

common cold

mumps

tonsilitis

emphysema

osteomyelitis

whitlow

gastro-enteritis

pharyngitis

whooping cough

In More Recent Years

Dr. Vergini and others have confirmed these earlier results and have added more diseases to the successful uses.

(many)
allergic diseases
Chronic
Fatigue Syndrome
optic neuritis
(acute)
asthma attacks
(acute & chronic) conjunctivitis
rheumatic diseases
(beneficial in)
cancer therapy
herpes zoster
shock
tetanus

In all these cases magnesium chloride had been used and gave much better results than other magnesium compounds.
Ormus Minerals
Magnesium Healing Oil with Lemon Essential Oil

Natural Healing
Mg Oil with
Essential Oil

INGREDIENTS:
Grape Seed Oil, Magnesium, Lemon Essential Oil

SKU NUMBER

COST

INFO

BUY NOW

OM-279-MLM-002
2 ounces

$10.00

View
Details

OM-279-MLM-004
4 ounces

$18.00

View
Details

OM-279-MLM-008
8 ounces

$35.00

View
Details

OM-279-MLM-016
16 ounces

$50.00

View
Details
Areas Helped with Magnesium Oil

SKIN ISSUES

PAIN ISSUES

OTHER ISSUES

Abscesses
(Human & Pet)

Achilles Tendon pain

Anxiety

Abrasions -- Pets

Braxton Hicks

Asthma

Bruises

Bronchial Spasms

Blood Pressure (lower)

Burns

Bursitis

Cholesterol lower

Cuts

Exercise pain

Constipation

Dry skin

Growing Pains

Diabetes II

Fingernails

Headaches

Energy increased

Gums

Heart Palpitations

Eyelids - drooping

Hair & nails

Leg Cramps

Hyper Activity

Hygiene - used as deodorant

Menstrual issues

Incontinence

Large pores

Migraines

Infertility

Moles & Warts

Muscle cramps

Insomnia

Psoriasis

Muscle repair

Irregularity

Rosecea

Neuropathy

Regularity

Scars

PMS

Stress

Skin Irritations

Pain

Swollen Eyes

Skin Tabs

Rheumatoid Arthritis

Teeth – whiter & less translucent

Spider Veins

Smashed Fingers

Sunburns

Sore Muscles

Wounds

Tooth Infection